The Mailbox/Postbox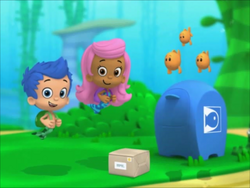 The Mailbox/Postbox in : Happy Clam Day!
This is the journey to school in the episoe: Happy Clam Day!
Role

This wasn't actually a field trip. it was a postbox where the guppies saw Clam trying to post himself.
Trivia
This Isn't a field trip. the guppies stayed in the school instead
Molly and Gil were the main characters to go to the field Trip
Ad blocker interference detected!
Wikia is a free-to-use site that makes money from advertising. We have a modified experience for viewers using ad blockers

Wikia is not accessible if you've made further modifications. Remove the custom ad blocker rule(s) and the page will load as expected.