Nonny

Hi. It's me, Nonny.
Name
Nonny
A/K/A
"Nonners"

Mr. Cautious

Age
6 (Born September 17th, 2007)
Dislikes
Yelling
Gender
Male
Favorite Thing to Do
Read books
Voice Actor
Eamon Pirruccello (Season 1 & 2, Speaking and Singing)

Jet Jurgensmeyr (Season 3, Speaking only)

Eason Rytter (Season 3, Singing only)

Eros Ramazzotti (UK)

First Appearance
Call a Clambulance!
Nonny: "I hope I can catch the ball."
Gil: "Just do your best."
Nonny: "Okay."
— Gil and Nonny
Oona: "There it is... The rock of the cyclops. (stops) Wait. The rock of the what?"
Nonny: "(appears from behind a small rock) A cyclops is a giant with only one eye. (back disappears)"
Deema: "Oh."
— Deema, Oona and Nonny
 Nonny is a brainy, cautious, and overly calm male guppy. He's more likely to comment on the action than get swept up in it, and he often uses an advanced vocabulary for his age. His best friends are Oona and/or Gil. Physical activities make Nonny a little unsure of himself, he'd rather define "basketball" than play it.
His willingness to keep trying, combined with encouragement from his friends, often leads him to triumph in the end. Nonny loves to read books. His nickname is Nonners, although, nobody calls him that but Deema. His original nickname is "Mr. Cautious". He has the lunch jokes in most episodes. In Gup, Gup and Away! He had a lunch joke means a bangel and airplanes
Nonny Season 3 Appearance
Development
Nonny in the early pilot of Bubble Guppies was very different. 
Looks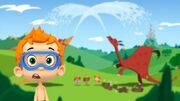 Nonny has peach skin, orange hair, and green eyes. He wears blue scuba goggles which are known to be glasses, and his tail is light green with dark green stripes. Nonny seems to have larger ears then the others.
| Name of Feature | Image | Name of Color |
| --- | --- | --- |
| Hair | | Witch's Song |
| Eyes | | Moderate Green |
| Skin | | Brilliant Amber |
Skills
Singing
Nonny doesn't sing that often, but he did have a solo in the episode, Can You Dig It? titled He Found It, and a full solo in The Puppy And The Ring,The Under Guppy.
Trivia
Facebook Poll
On November 10, 2011. Bubble Guppies's Facebook asked the fans to answer "Which Guppy is your kid most like?" The results, Nonny is in fifth place with 52 votes, and 40 votes ahead of sixth/last place, Goby.
On January 24, 2012. Bubble Guppies's Facebook asked the fans to answer "Which Bubble Guppies character would you name your kid after?". The results, Nonny is in fourth place with 29 votes, and 11 votes ahead of fifth place, Oona.
On March 1st, 2013, the Bubble Guppies Facebook page asked the fans to vote on their favorite character, and Nonny won with 89 votes, with Molly coming in 2nd with 64, and Deema in 3rd with 40.
See Also
Gallery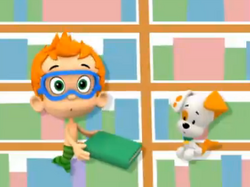 The gallery for Nonny can be found here.