Information
Long Time Ago is the pop song from: Can You Dig It?, and was also played in "Good Morning, Mr. Grumpfish!". It is mostly sung by Gil.
Characters Singing
Lyrics
Gil:
A long long time ago, before cavemen were around, there were giant dinosaurs everywhere and their footsteps shook
the ground!
Some had plates, some had scales, some had horns or, enourmus tails! Some could swim, some could fly, and, we never had the chance to say...
Goby and Gil: Bye bye!
All: Cause it was a long time ago.....
Gil:
Dinosaurs lived a long time ago.
All: Long long long time ago.
Gil: in the air, on the land, in the sea don't you know?
All: La-la-long time ago
Gil:dinosaurs lived a long time ago
All:la-la-long time ago.
Gil and Goby: In the past before you and me yo.
Gil: On two feet they walked on four, prop the T-Rex And...
Goby:
The Pata
saur!
Gil: Been two hundred million years,
Goby: Maybe more!
Gil: They deserve a dinosaur roar, there many dinosaurs all around, not anymore cause their all extinct.
Tyranasaurous Rex is king of the beasts,
With razor sharp teeth who liked to eat meat!
A patasours eats veggies snacks, a tiny brain, and, it's teeth were flat,
Tricerotops, what's up with your head? You got three horns, yeah, you heard what I said!
Goby: 
It was a long time,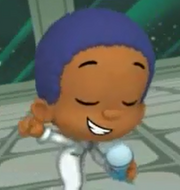 Gil:yo, yo,
Goby:it was a really really long time long time ago.. Oh yeah, long time ago!
Gil and Goby: In the past before you and me!
Videos
01:24

Bubble Guppies Tunes 36 Long Time Ago




01:33

Y mucho tiempo paso (Bubble Guppies)-1420581012

02:00

Bubble Guppies Muito tempo já se passou em Português

01:25

Bubble guppies tunes 36 long time ago(Hebrew)
Ad blocker interference detected!
Wikia is a free-to-use site that makes money from advertising. We have a modified experience for viewers using ad blockers

Wikia is not accessible if you've made further modifications. Remove the custom ad blocker rule(s) and the page will load as expected.