Goby's Trivia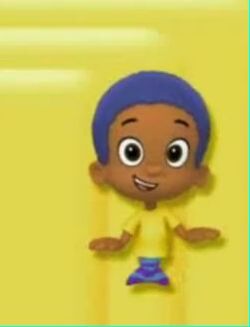 References, and Trivia for Goby!
In The Moon Rocks!, it is revealed that Goby likes to collect rocks.
Due to Goby being very creative, he's normally the Guppy to come up with most of the games they play during recess and has narrated the most adveture segments.
In The Crayon Prix!, it was suggested that his favorite color is green, but according to Nick Jr's Bubble Guppies Collector Cards , it says his favorite color is blue.

Also according to the trading cards, his favorite lunch is a turkey sandwich with cran-apple juice.

Goby's name comes from the Gobiidae family of fish.
Goby's best friend is Gil.
For some reason, Goby's name is "Lenny" in the European French Dub .
Goby's Lunchbox is green with stripes.
On November 10, 2011. Bubble Guppies' Official Facebook page asked the fans to answer "Which Guppy is your kid most like?" The results, Goby is in sixth/last place with 12 votes (and ties with 'None of the Guppies' option).
On January 24, 2012. Bubble Guppies' Facebook page asked the fans to answer "Which Bubble Guppies character would you name your kid after?". The results, Goby is in sixth/last place with 10 votes.
He is one of only two guppies that know Spanish. During the shop segment iin Bubble Puppy!, he says "gracias" which means "thank you"
Goby can be seen wearing a firefighter costume in four episodes. ("Happy Holidays, Mr. Grumpfish!","Firefighter Gil to the Rescue!", "Humunga-Truck!", and "The New Doghouse!").
In one episode, Goby once cried because his truck was missing.
Goby is the only guppy to have dark skin.
Ad blocker interference detected!
Wikia is a free-to-use site that makes money from advertising. We have a modified experience for viewers using ad blockers

Wikia is not accessible if you've made further modifications. Remove the custom ad blocker rule(s) and the page will load as expected.