Development
Still Workin' On It!

This page is missing some content and/or is still being worked on!
Please be patient.
In the early Bubble Guppies development...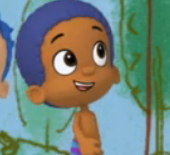 Goby's hair was slightly afro like, and it was dark blue, not indigo.

His limbs were longer

Goby's head was larger.Goby's skin was darker

His tail was thinner.
Season 2
Season 3
 Goby is one of the five guppies whose voice has changed. This is because he is played by Marlek Walker, instead of Jelani Imani, who played him in the first two seasons.
Season 4
Ad blocker interference detected!
Wikia is a free-to-use site that makes money from advertising. We have a modified experience for viewers using ad blockers

Wikia is not accessible if you've made further modifications. Remove the custom ad blocker rule(s) and the page will load as expected.