Fanon/Handsomepuppy32 - The Wizard of Oz: Bubble Puppy Escapes
Comment

1
1,402pages on
this wiki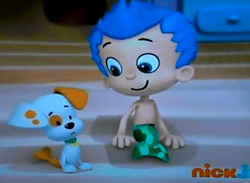 Characters
Olivia (does not speak)
Bubble Puppy
Gil
Summary
While Olivia swims away, Bubble Puppy jumps out of the backpack and swims back to Gil. Fearing that Olivia, who does not know that Bubble Puppy has escaped, will return, Gil takes the puppy and runs away from preschool.
Plot/Transcript
Olivia swims along the ocean. Her backpack is on her back. Bubble Puppy peaks his head out of it.
Bubble Puppy: *jumps out of backpack and swims away*
​Bubble Puppy swims away quickly. Gil is sitting outside in the playground crying.
Gil stops crying when he heard a noise.
Bubble Puppy swims in the playground and licks Gil.
Bubble Puppy: *licks Gil*
Gil: *laughs* Bubble Puppy, darling! l got you back, boy! You came back! l'm so glad! *hugs and cuddles Bubble Puppy*
Gil stops hugging and cuddling Bubble Puppy when he gasped.
Gil: *gasps* Oh no... They'll be coming back for you in a minute. We've got to get away! We've got to run away!
Gil grabs out a backpack and starts packing it quickly.