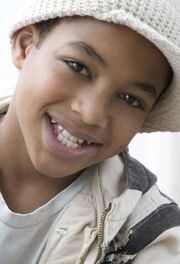 Christopher Boger
Have an image of this character?
Then please upload it!
Name
Christopher Boger
A/K/A
Christ

Goby

Age
14
Gender
Male
First Appearance
His Brith
Christopher Borger, age 14, is from Wantagh, NY.
Career
He is the singing voice for Goby. Christopher began his career doing print ads for Target, WalMart, PearleVision and various magazines including a recent Vanity Fair publication. He played Young Simba in "Disney's Lion King" on the National Tour, as an understudy on Broadway and traveled to Taiwan to take on his role as part of the International Tour. He was the 2009 Long Island Got and Talent Winner and Apollo Theatre Future Star Winner. He also appeared in multiple short films incuding Zimbabwe and Frank.
Ad blocker interference detected!
Wikia is a free-to-use site that makes money from advertising. We have a modified experience for viewers using ad blockers

Wikia is not accessible if you've made further modifications. Remove the custom ad blocker rule(s) and the page will load as expected.