Bubble Puppy

Arf! Arf!
Name
Bubble Puppy
A/K/A
"The Class Pet"
Dislikes
Rain (formerly)
Gender
Male
Favorite Thing to Do
Playing with Gil
Voice Actor
Frank Welker
First Appearance
Call a Clambulance!
Still Workin' On It!

This page is missing some content and/or is still being worked on!
Please be patient.
Bubble Puppy is a playful, boisterous little puppy with a fish tail. Though he is particularly loyal to Gil, Bubble Puppy loves to play with all of the Guppies, especially if he gets to pop a bubble. His favorite treat is Bubble Bites, he especially likes it when Gil throws one in the air so he can perform a trick and catch it in his mouth.
Appearances
Bubble Puppy has appeared in every episode of Bubble Guppies. He has played an important role in: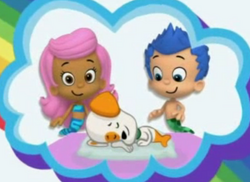 Ad blocker interference detected!
Wikia is a free-to-use site that makes money from advertising. We have a modified experience for viewers using ad blockers

Wikia is not accessible if you've made further modifications. Remove the custom ad blocker rule(s) and the page will load as expected.