Wait, He's The Snow Guppy?
The follow name or title given has not been confirmed as canon and needs verification.
Still Workin' On It!

This page is missing some content and/or is still being worked on!
Please be patient.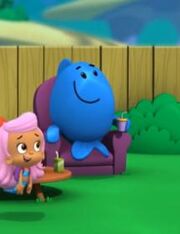 The Blue Fish is a secondary character on "The Super Ballet Bowl".
Appearances
He appears on the episode "The Super Ballet Bowl", at the beginning of the episode, he is sitting (the same way that Mr. Grouper do) watching a ballet performance, He also appears at the end of the episode.
Looks
He is a big blue fish, and looks similar to Mr. Grouper.
Ad blocker interference detected!
Wikia is a free-to-use site that makes money from advertising. We have a modified experience for viewers using ad blockers

Wikia is not accessible if you've made further modifications. Remove the custom ad blocker rule(s) and the page will load as expected.