Ballet Pig
Name
Ballet Pig
A/K/A
"A pig in a tutu who likes to sing"
Dislikes
Pirates
Gender
Male
Favorite Thing to Do
Ballet
First Appearance
Our Great Play
The Ballet Pig is a rival to Gil. He always shows up when Gil doesn't want him to, and interrupts his songs. He appeared in the The Farmer's Song, and he has a line in Our Great Play.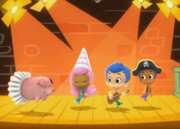 Appearances
Ballet Pig first appeared in Our Great Play He had singing line, it was "Ballet is one of my favourite things". And he made a second appearance in The Farmers Song. He sang Gil's line which got him frustrated.
Video of Ballet Pig
<youtube width=200 height=150>-yJrlom1OFc</youtube>
American English Version
Ad blocker interference detected!
Wikia is a free-to-use site that makes money from advertising. We have a modified experience for viewers using ad blockers

Wikia is not accessible if you've made further modifications. Remove the custom ad blocker rule(s) and the page will load as expected.