General
A Spring Roll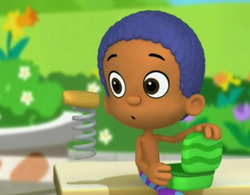 By Goby!
A Spring Roll is a Lunch Joke from the episode: The Spring Chicken is Coming!. It is said by Goby, and is not a pun of "Macaroni and Cheese".
Characters' Role
Trivia
This is Goby's fifth lunch Joke.
Instead of zooming out. They zoomed into the guppies' faces to see what they had.
Little Fishes' Reactions
"A spring roll?!" That's Silly!
Gallery
Ad blocker interference detected!
Wikia is a free-to-use site that makes money from advertising. We have a modified experience for viewers using ad blockers

Wikia is not accessible if you've made further modifications. Remove the custom ad blocker rule(s) and the page will load as expected.